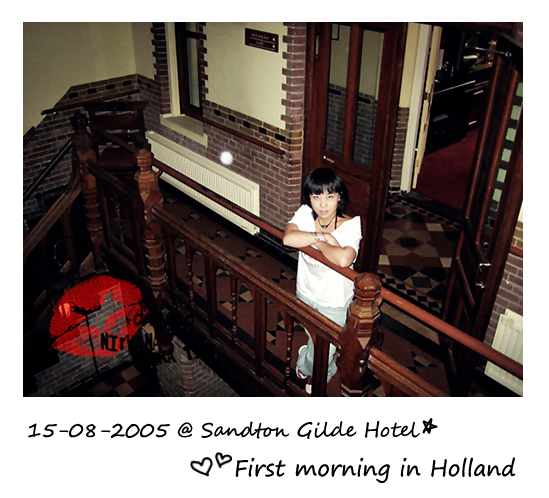 其實我的學生生涯早在2009年就已經結束,一直想要寫一篇總結來悼念它,不過每每不是忘掉,就是懶掉。這次因為做荷蘭語助教的緣故,我需要做一個關於荷蘭與我的簡單演講,於是我便決定乘次機會寫一寫我在荷蘭的四年留學生活。
我的荷蘭語很爛,是先寫英文版後翻譯成荷蘭語的,為了翻譯的時候不那麼頭大,所以寫的實在很幼稚
不過,總之是完成就好了!這是我第一次用三個國家的語言寫網誌…心裡竟然有那麼一點不要臉的小小成就感…

五年前,我為了完成本科學業來到了荷蘭。我的第一站是德芬特,我對這個城市的第一印象並不佳-和我所期待的歐洲小鎮差別實在太大。直到一周左右在我完全的"融入現實"之後,所有的一切立刻變得非常美好。在並不輕鬆的學業之外,我也能有大把的時間享受跑趴-我是一個非常熱愛交際的人。
就在我在荷蘭的第三個月,發生了一件非常幸福的事:我遇到了我現在的男朋友。從那開始,他成為了我生活中很重要的一部份。
2006年,因為學業的關係,每個人必須進行6個月的實習。我實習的地方叫芬丹。在那6個月的時間裡,我都住在當地酒店,並擁有了一位世界上最好的老闆!那個時候覺得,每日吃住在酒店、閒坐在辦公室,還有老闆親自每日上下班開車接送,是世界上最幸福的事…芬丹很小…也許是因為那裡基本沒有亞洲人居住的關係,路上行人看我的眼神很怪-當然是很友好的那種奇怪啦!更有不少陌生人前來和我聊天搭訕。我必須承認,我很喜歡那樣倍受矚目的感覺。
2006年末,我本科所在學校遷址到了瓦格寧根,我也只有隨著大家一起搬到了那裡的學生公寓居住。我對瓦格寧根的第一印象是:這裡的樹比人多很多。瓦村整體說來還不錯住,不過可能是因為那裡沒有太多和我一樣total city person的人,所以瓦格寧根應該算是我在荷蘭所居住過的城市裡,最不喜歡的一個。
2007年夏,我前往阿爾斯梅爾進行4個月的畢業論文研究實習。我住在那裡富人區靠海灣的一家旅館裡,每天上下班需要騎腳踏車一個半鐘,其實有時候迎著陽光沿著河水踩腳踏車,也可以是一種享受。我非常的喜歡阿爾斯梅爾-喜歡那裡的人,喜歡那裡的環境,喜歡那裡的一切!雖然每週有5天40小時需要坐在辦公桌前,不過在那裡的每一天對我來說都好像度假一般。如果我有得選,我願意每個夏天都在阿爾斯梅爾度過。
結束了在阿爾斯梅爾的實習後,我回到瓦格寧根做畢業答辯,雖然論文成績只是8分而已,我還算是蠻滿意吧。畢業後,我有三個選擇:回國,留下來工作,或者讀研。我沒有猶豫便選擇了讀研-我真的很熱愛學生生活。我當時報的兩所學校都給我寄來了邀請函,我沒有接受瓦格寧根大學的邀請,獨自來到了位於荷蘭最北部的格羅寧根。很多人說這個選擇很愚蠢,我不知道,那時的我真的無法在同一個地方停留太久,特別是一個跟我沒有多少共鳴的鄉野之地。
我在格羅寧根學習MBA的第一年過得很平常,每天就是學習學習再學習。班裡的大多數同學也都屬於智慧才人並且對於學業和人生都非常的認真嚴肅,對於這一點我並不喜歡,我不是個嚴肅的人,我也不把所有的事情看得那麼嚴肅,我喜歡在我還有得機會的時候能夠充份享受快樂休閒的生活。第二學期,班裡的大多數同學都前往了劍橋交換,只有我和另外5個同學選擇了留下。這一學期,從劍橋來了8位交換學生,我不知道是不是因為我們是一類人的關係還是其他的什麼原因,這一學期我在非常high的狀態下度過了。記得那個學期的學業安排也比之前來得重,有時候我一天就只能睡上2,3個小時。不過當每個學業項目完成後,我們就會三兩約在一起,出去"慶祝"…直到現在,我仍然不清楚我當時是如何常常趴踢到半夜、第二天仍然可以精神抖擻去上早上8點的課的…在格羅寧根的那一段日子,真的可以列為我到現在為止最快樂的時期之一。
當然,作為學生,令人興奮的不僅僅只是趴踢而已;我們還有各種各樣的假期。我在這些閒暇時間裡,觀光了不少荷蘭境內外的地方。我所去過的這些城市都很讚,不過我最愛的是維也納-我一定會抽出時間再去一趟。
2009年,我完成了在格羅寧根的學業,搬回了德芬特。我不能說:當我的學生生活結束、所有的"high時刻"也隨之而去:我現在一樣能夠去旅行、跑趴、品酒。但儘管如此,一切都和那時不同了:我再也不能因為一時興起就跳上開往任意國家的火車;我再也不能瘋狂得趴踢彷彿明天太陽不再會升起;我再也不能毫無任何憂慮和躊躇的隨性暢飲美酒...
不過不管怎樣,我知道我一定會慢慢找到上班族生活中的樂趣…總有一天會的...
I came to Holland 5 years ago to finish my study. My first destination was Deventer. The first impression I had about this city was boring. It was nothing I expected. But after a week or so, I got fully settled and that's when all the fun starts. Despite our busy class schedules, I still could make time for all kinds of parties, I am a people person and I love parties.
During the first year in Holland, something really sweet happened: I met my current boyfriend. Since then, he is a very big part of my life.
In 2006, I need to do an internship for 6 months, which took place in Veendam, I stayed in a hotel there and had the best boss ever! Veendam is really small and maybe because there weren't so many Asians at that time, people looked at me weird, and some strangers even came to talk to me out of a blue, but in a funny and friendly way of course! I have to admit I liked the attention.
At the end of 2006, our school moved to Wageningen, so I had to move to a student apartment in Wageningen. My first impression of Wageningen was: there is way more trees than human beings. It was nice there in Wageningen, but maybe because there weren't so many my kinda people, it is probably the city I liked the least in Holland.
In the summer of 2007, I went to Aalsmeer for my final thesis placement for 4 months. I lived in a hostel there and had to ride a bike for one and half hour everyday to work. But it was a very nice work out. I loved Aalsmeer, the people, the environment and everything! Even though I had to work 5 days a week, and the wind is much stronger over there, but it was really like holidays everyday, especially when the sun was shining, we could go sun bathing at the riverside. With some ice cold beer and ice-creams, pop on my iPod, it could totally make my day. Now if I can choose, I would like to live there every summer.
After my placement in Aalsmeer, I went back to Wageningen for my final presentation. I had a choice at that time, I could go back to China after my graduation, or try to find a job in Holland, or do a Master. I choose to do a Master, I love being a student. I didn't take the offer from Wageningen University and went all the way to Groningen. Most people think it is stupid because Wageningen University is world's top 200, and seems to have a lot of promises. I don't know why, I guess I just don't like to stay at one place for too long, especially a place I am not really fond of.
My first MBA year in Groningen was normal, basically just study, study, study. Most of my classmates were really smart and very serious about their studies and lives, I don't like that too much, I don't take everything that seriously, I'd like to relax, enjoy my life and have some fun when I still had the chance. In the second semester, most of my classmates went to Cambridge for the exchange program, only I and 5 other students chose to stay, and we got 8 exchange students from Cambridge. I don't know if it is because they are my kind of people or something else, I had loads of fun. The study loads were heavier as well, sometimes I only got 2 or 3 hours sleep, but in the good days or when a school project is over, we would all go out and "celebrate". I still don't know how I managed to stay up half of the night partying and still be able to refreshing up for the 8 o'clock morning class, but those were indeed one of the best times I have had in my life.
Of course, as a student, the best thing is not only parties, I had all kinds of free time and holidays which allow me sightseeing in some really nice places. They are all amazing cities, especially Vienna; I will definitely visit there again.
In 2009, I finished my study in Groningen, and moved back to Deventer. I cannot say when my school life ended, all the fun ends with it, but I do prefer student life very much. Sure now I can still travel around, have parties and nice drinks, but it will never be the same…I could never just hoop in the train and see where it takes me, I could never once again party like there is no tomorrow, drink with only joy and no worries…
Anyway, I'm sure I'm going to co-op and find out the fun of working life, eventually…
Ik kwam naar Nederland 5 jaar geleden om mijn studie af te maken. Mijn eerste bestemming was Deventer. Mijn eerste indruk van deze stad was saai. Het was niet wat ik verwachte. Maar na een week of zo, heb ik me volledig aangepast en dat is wanneer alle pret begint. Ondanks onze drukke lesroosters, kon ik nog steeds tijd maken voor plezier, ik ben een mensen-mens en ik hou van feesten.
Tijdens het eerste jaar in Nederland, is er ook iets leuks gebeurt: ik ontmoette mijn huidige vriend. Sindsdien is hij een groot deel van mijn leven.
In 2006 moest ik een stage doen voor 6 maanden bij Avebe in Veendam, Ik verbleef in een hotel en had de beste baas ooit! Veendam is erg klein en misschien omdat er niet zo veel Aziaten woonden in die tijd, keken de mensen me raar aan, en sommige mensen kwamen zelfs zomaar met mij praten, maar natuurlijk op een grappige en vriendelijke manier! Ik moet zeggen dat ik de aandacht leuk vond.
Aan het einde van 2006, verhuisd onze school naar Wageningen, dus ik moest verhuizen naar een studenten appartement in Wageningen. Mijn eerste indruk van Wageningen was: er zijn veel meer bomen dan mensen. het was leuk daar in Wageningen, maar misschien gewoon omdat er niet zo veel van mijn soort mensen wonen. Het is waarschijnlijk de stad die ik het minst leuk vond in Nederland.
In de zomer van 2007, ging ik voor 4 maanden naar Aalsmeer om af te studeeren. Ik woonde daar in een hostel en had een fiets om dagelijks 1 en half uur naar mijn werk te rijden. Maar dat was een goede workout. Ik hield van Aalsmeer, de mensen, het milieu en meer! Ook al was ik aan het werk 5 dagen per week, en de wind is veel sterker daar, maar het was net als vakanties elke dag, vooral als de zon scheen, konden we gaan zonnen aan het meer. Met een ijskoud biertje, een ijsje en muziek, kan het helemaal mijn dag maken. Als ik nu kan kiezen, zou ik daar elke zomer willen wonen.
Na mijn stage in Aalsmeer, ging ik terug naar Wageningen voor mijn eindpresentatie. Ik had een keuze op dat moment, ik kon terug gaan naar China na mijn afstuderen, of proberen om een baan in Nederland te vinden, of een master te doen. Ik kies voor een master, ik hou erg van om een student te zijn. Ik heb dit niet op Wageningen Universiteit gedaan, maar ging helemaal naar Groningen. De meeste mensen denken dat het stom was, omdat Wageningen Universiteit in de wereld top 200 staat, en het een goede kans leek. Ik weet niet waarom, ik denk dat ik gewoon niet te lang op een plaats wil verblijven, vooral een plaats waar ik niet echt dol op ben.
Mijn eerste MBA jaar in Groningen was normaal, eigenlijk gewoon studie, studie, en nog eens studie. De meeste van mijn klasgenoten waren erg slim en heel serieus met hun studie en hun leven, ik zelf hou daar niet te veel van, ik neem niet alles zo serieus, ik wil graag ontspannen, van mijn leven genieten en plezier hebben zo lang ik nog de kans heb. In het tweede semester, gingen de meeste van mijn klasgenoten naar Cambridge voor het uitwisselings programma, alleen ik en 5 andere studenten kozen om te blijven. En ook, kregen we er 8 Uitwisseling studenten van Cambridge bij. Ik weet niet of het is omdat ze mijn soort mensen zijn of iets anders, ik had veel plezier. De studie belastingen werden ook zwaarder, soms slaap ik alleen maar 2 of 3 uur, maar op de goede dagen, of wanneer een school project voorbij was, gingen we allemaal uit om het te 'vieren'. Ik weet niet hoe we de helft van de nacht konden feesten en s'ochtends weer fris naar de klas konden gaan, maar dit was een van de beste tijden ik heb gehad in mijn leven.
Natuurlijk, als student, het beste is niet alleen feesten. Ik had ook veel vrije tijd en vakantie waarin ik in veel plaatsen ben geweest. Dat zijn allemaal fantastische steden, met name Wenen, zal ik zeker weer bezoeken.
In 2009 heb ik mijn studie in Groningen af, en verhuisde ik terug naar Deventer, ik kan niet zeggen dat wanneer mijn studie leven eindigde ook al het plezier eindigde, maar ik heb liever een studentenleven dan iets anders. Natuurlijk, kan ik nog steeds rond reizen, feesten en lekker drinken, maar het zal nooit zoals toen zijn. Ik kan niet meer in elke trein stapen om te zien waar ik uit kom; ik kan niet meer feesten alsog er geen morgen is; Ik kan niet meer drinken met alleen vreugde en zonder zorgen.
Maargoed, ik weet zeker dat ik daar mee om kan gaan en het plezier van het werk leven, kan gaan ontdekken.